In the heart of Monterey, California, a spectacular event unfolded that brought together cycling enthusiasts and industry innovators from around the globe. This was none other than the much-anticipated Sea Otter Classic of 2023.

More than just a festival, it was a platform where the world came together to celebrate cycling. The event was brimming with over 300 races, including gravel, cross country, downhill, dual slalom, short track, circuit, and road races. Attendees had the opportunity to test ride the latest bikes and play with the newest gear.

The Expo was a major highlight. As the world's largest consumer bicycle expo, it featured over 900 brands. Visitors could watch exciting trials shows, see the newest gear, win swag, and even meet their favorite professional athletes.
Experiences in the
sea otter bike exhibition
The Expo offered visitors close-up access to their favorite brands and cycling heroes.

Special activities for kids made this event a family affair. All children ages twelve and under got a free Festival Pass and could compete in kids races, ride a pump track, enjoy carnival games and more.

Attendees could also soak up the views and traverse Monterey's iconic and breathtaking coastline and rolling hills with two Gran Fondos.

This annual pilgrimage attracted professional and amateur athletes alike to participate in over 300 events.

From enduro races to downhill presented by Pinkbike, there was something for riders of all types, all ages, and skill levels.


The event was a testament to the diversity and inclusivity of the cycling community, bringing together people from different backgrounds and cultures, united by their shared passion for cycling.

The Sea Otter Classic also served as a platform for innovation and advancement in the cycling industry.

With the latest bikes and gear on display, attendees had the opportunity to witness firsthand the cutting-edge technology that is shaping the future of cycling.

From high-performance electric bikes to advanced safety equipment, the expo showcased the best of what the industry has to offer.

Moreover, the event was not just about competition and technology. It was also about education and advocacy.

Through various workshops, seminars, and presentations, attendees could learn about topics ranging from bike maintenance and safety to environmental conservation and sustainable practices in cycling.

Monterey, a city in Monterey County, is located on a peninsula along the southern end of Monterey Bay in California, USA.

The area was originally inhabited by Costanoan people, and in 1542 it was first seen by the Spanish explorer Juan Rodríguez Cabrillo.

This city holds particular historical importance due to its position as the capital of Alta California under Mexico and Spain during the years between 1777 and 1846.

Traditionally a fishing town, for the last 100 years or more it has attracted many noted artists and authors, such as Henry Miller, John Steinbeck, and Xavier Martinez.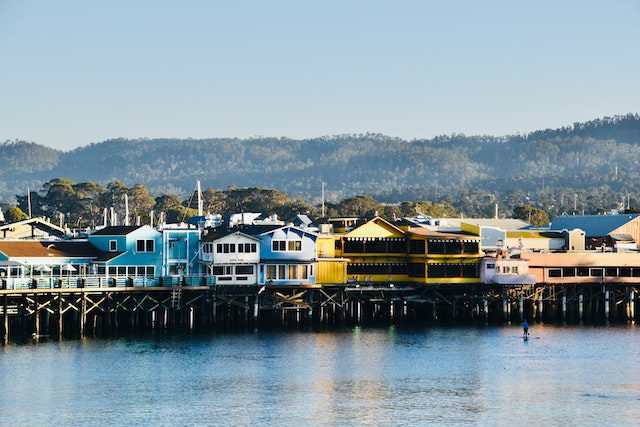 The 2023 Sea Otter Classic was a vibrant celebration of cycling that brought together enthusiasts and innovators from around the globe.

The event was a melting pot of new exhibitors from various countries, including Belgium, South Africa, Finland, Denmark, and India.

Notably, Ford's Bronco division, Winnebago, Mazda, and several "overland" companies were part of the expo.

The event was a platform for many companies to showcase their latest products. For instance, Push Industries displayed a new fork at the event. There were also several new bikes on display, including a downhill bike from Finland.

In addition to product showcases, the Sea Otter Classic also featured over 300 races including gravel, cross country, downhill, dual slalom, short track, circuit, and road races.

The event also hosted an industry-exclusive dinner at the Monterey Bay Aquarium, providing a unique networking opportunity for attendees to build new connections and strengthen existing relationships.
Attendees had the chance to test ride the latest bikes and gear, watch exciting trials shows, and even participate in kids' races in the woom Kids' Zone.

These experiences made the Sea Otter Classic 2023 more than just an exhibition; it was a celebration of progress, a hub for learning, and a platform for building connections.

It reflected not just where the cycling industry stands today but also gave a glimpse into its promising future.

The event also had a significant economic impact on the local community. It attracted thousands of visitors to Monterey, boosting local businesses and contributing to the local economy.

In conclusion, this event was not just an exhibition but an experience. It served as a reminder that when technology meets passion, the possibilities are endless.

The Sea Otter Classic truly embodied this spirit, celebrating the joy of cycling while driving innovation and fostering a sense of community among its attendees.
posters we used for our bike exhibitions
check out our other bike exhibitions