The Bike Exhibition at Las Vegas was more than just an event; it was a spectacle of innovation and camaraderie set against the backdrop of the dazzling city of Las Vegas. The city, with its vibrant nightlife and dynamic energy, provided the perfect setting for this grand celebration of cycling and technology.

The exhibition hall was a hive of activity, with exhibitors from around the globe showcasing their latest innovations. The air was thick with anticipation and excitement as attendees navigated through the maze of booths, each one a treasure trove of technological advancements.

One of the standout displays was a sleek e-bike equipped with a mid motor. Despite its compact size, the motor packed a punch, offering efficient power transfer that could significantly boost the performance of any e-bike.
Not far from there, a crowd had gathered around a display of hub motors. These devices, integrated into the wheel hubs, promised to make e-bikes more efficient and easier to handle.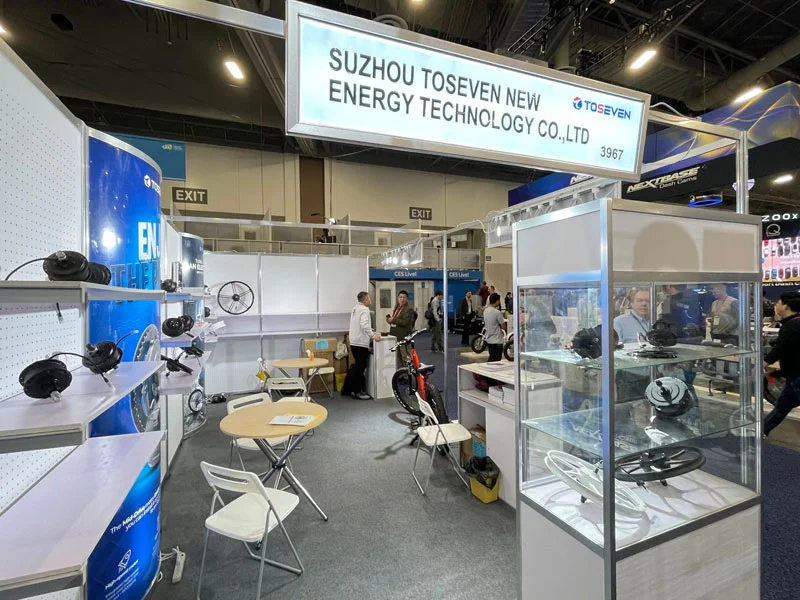 In a corner, a lively interaction unfolded between an exhibitor and an attendee. The exhibitor, an expert in hub motor technology, demonstrated a hub motor to an intrigued attendee. This interaction encapsulated the spirit of learning and sharing that was prevalent at the exhibition.

The alloy rims on display were nothing short of engineering marvels. Crafted from lightweight yet durable metals like aluminum, magnesium, and titanium, these rims promised improved handling and longevity.

The conversion kits section was particularly popular among DIY enthusiasts. These kits offered everything one would need to transform a regular bike into an e-bike, opening up new possibilities for customization and personalization.

There were stories of long-distance rides powered by mid motors, discussions about the future of hub motors in urban commuting, debates over the merits of alloy rims versus traditional rims, and so much more.
The event was a vibrant showcase of innovation and camaraderie. The bustling scene at the exhibition was captured in a photo where an exhibitor from our booth showcased an e-bike equipped with a mid motor.

The sleek design & advanced features of the bike drew the attention of a group of attendees, while the exhibitor explained the workings of the mid motor and its transformative potential for their cycling experience.

But what truly set this exhibition apart was the sense of community. Attendees and exhibitors alike shared a common passion for cycling and technology, leading to enriching conversations and exchanges.

Meanwhile, our booth was buzzing with activity. An array of bike accessories, including high-performance alloy rims and versatile conversion kits, were on display. Attendees examined these accessories, contemplating how they could enhance their bikes.
Elsewhere, a group of attendees gathered around a display of our conversion kits. An exhibitor explained how these kits could transform regular bikes into e-bikes, reflecting the growing popularity of DIY e-bike conversions.

Amidst all this, a candid moment between two attendees was captured. They shared their experiences at the exhibition, their thoughts on the latest advancements in e-bike technology, and their excitement about the future of cycling.

Finally, an attendee was seen taking a closer look at one of our e-bikes equipped with an alloy rim. The lightweight yet durable construction of the rim left an impression on the attendee, highlighting its potential to improve bike handling and performance.

These moments offer a glimpse into the vibrant atmosphere at the Bike Exhibition at Las Vegas - an event that celebrated innovation in cycling and brought together a community of enthusiasts and pioneers.
In between exploring booths and engaging in discussions, attendees could step outside to enjoy the sights and sounds of Las Vegas. From its iconic skyline to its bustling streets, Las Vegas added an extra layer of excitement to the event.
In conclusion, the bike exhibition was not just an event but an experience. It brought together people from all walks of life under one roof to celebrate human ingenuity and innovation in cycling. It served as a reminder that when technology meets passion, the possibilities are endless.
posters we used for our bike exhibitions